The Moving Average Cross Expert Advisor
The moving average cross is one of the most popular basic trading strategies. It uses two or more moving averages of different periods to determine the direction of the trend. When the faster moving average(s) is above the slower moving average(s), a long position is opened, and vice versa for a short position. The moving average cross excels during long, sustained trends as a medium/long-range trading strategy.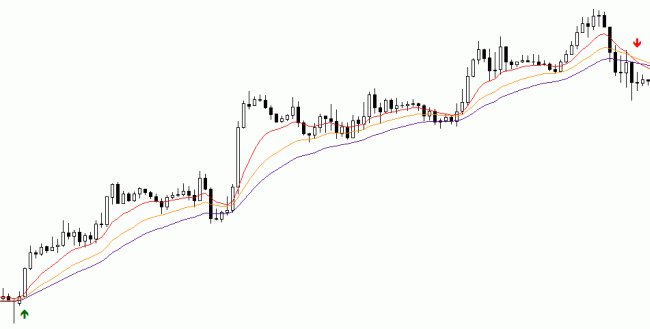 Strategies based on the moving average cross have always been frequently requested by our clients, and that's why we offer the moving average cross expert advisor. You can now purchase this popular expert advisor for over 50% off! Formerly $45, the deluxe Moving Average Cross expert advisor is now only $19.95!
Features
Up to 3 Moving Average Lines: Use two moving averages, or add a third to filter out long-term trends.
Moving Average Types: Simple, Exponential, Smoothed or Linear Weighted.
Price Data: Choose from Close, Open, High, Low, Median, Typical or Weighted Close.
Shift: Shift the moving average lines forward or backward.
Multiple Timeframes: Each moving average can be set to any chart timeframe.
Money Management - The lot size is automatically calculated so that the maximum risk per trade is limited to a percentage of your equity.
Trailing Stop / Break Even Stop - Automatically adjust the stop loss as the trade moves into profit. Set minimum profit levels, step trailing stop in increments and more!
Daily Trade Timer - Limit your intraday trading to the hours that the market is most active. You can optionally close all open orders at the end of the day.
Manual Order Control - Place manual orders on your chart with a specified trade comment, and the MA Cross EA will trail the stop loss and close the order automatically on an opposite cross.
Run Once Per Bar or Every Tick: Choose how often to check order opening and closing conditions. You can trade on every tick, or only on the close of each bar.
Close On Cross - Close the currently opened position on a moving average cross in the opposite direction. If disabled, orders will only close on a stop loss or manually.
Robust: Full error handling and notification, retry on requotes, and much more. Fully compatible with ECN and 5-digit brokers.
Alerts - Choose between audio alerts, the built-in alert dialog, email alerts or notifications sent to your smartphone.
You can purchase the Moving Average Cross EA instantly for only $19.95!
Buy the Moving Average Cross Expert Advisor